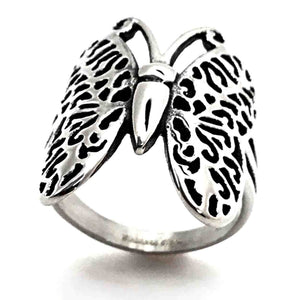 Forgiven Jewelry
Butterfly Ring
Sale price
$13.99
Regular price
$14.99
Butterfly Ring
Item FJW5535 -
Butterfly Ring
is made with the finest quality hypo allergenic stainless steel. This ring serves as a reminder that Jesus set us free from sin and bondage. It truly captures the airy look of a butterfly. The wings are filigree and creates contrast and depth.
Butterfly's are Fascinating
Butterflies flat out have the most striking color displays found in all of Gods creations. As they fly around from bloom to bloom collecting nectar from the plant, their amazing colored wings seem to illuminate and change colors in that very moment.
Another fascinating theme with butterflies is their ability to regenerate. All butterflies consistently transition from caterpillar to cocoon to butterfly. That's the way is was designed. Proving time and time again to have faith in change. We find that butterfly give us a true sense of unwavering grace. They transform us in many ways True Believers love butterflies because it represented virtues. A butterfly can symbolize;
Joy
Miracles
Transformation
Born Again
Freedom (set free)
New Creation
Inspiration of a butterfly
We found in
2 Corinthians 5:17
that reads;
"Therefore, if anyone is in Christ, the new creation has come: The old has gone, the new is here!" This necklace is a perfect reminder of how special and unique we are in Christ. We don't need to worry about the past, but focus on our future and the fact that we have been "set free" from the bondage of sin.
True believers love butterflies. We chose this specific butterfly to represent for several reasons. Symbolic in so many ways, the butterfly represents new life in Christ. A new found freedom being delivered from sin. Like it has been transformed out of the ashes and through the winds, softly touching the things of this life, making its mark on the world. This butterfly ring was designed with grace and beauty to be soft and peaceful. This butterfly should captures your attention and those around you.
This butterfly set free ring will witness for you. All you have to do is wear it.
  Be a witness, trust in God today! This Feather Ring makes a Great Gift.
Butterfly Ring Details;
Item FJW5535
Sizes 7-9
Hypo Allergenic
Wing measures 3/4 wide
Butterfly is 1 inch tall
Shank measures 1/8 inch thickness
Filigree
Stainless Steel
---
More from this collection