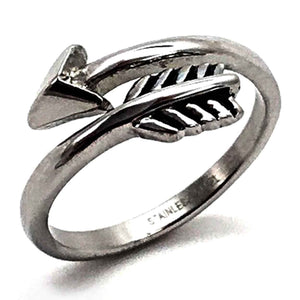 Forgiven Jewelry
Bypass Arrow Ring
Bypass Feather Ring
Item FJW5599 -
Bypass Arrow Ring
is made with the finest quality hypo allergenic stainless steel. This ring serves as a reminder to move forward in your faith and with God you can achieve great things. In history the arrow will show their positive mentality towards life. Whatever may be the difficulties in life, they want to move forward. Some others design it for showing their friendship. It truly captures the airy look of a split ring arrow. The front and back of the arrow complement one another. True Believes love the symbol nature of the
arrow
because it represents the "release that
arrow"
to make an impact on our world with the
love
of
Christ
. Our arrow ring can symbolize;
Safeguarding our lives wrapped in Gods word
Moving Forward in a Biblical direction
Achievements God has for us
Love
Strength In the Lord
Direction in Christ
Gods arrow in scripture from
Psalm 127:3-4
The scripture reads; Lo, children
are
an heritage of the LORD:
and
the fruit of the womb
is his
reward. As arrows
are
in the hand of a mighty man; so
are
children of the youth.
Jesus Arrow -> which way to go -> so we all could have eternal life
Arrows are used all over the world to tell you the direction to go. Look at the direction Jesus took in his life. Jesus came to earth (down arrow) died according to the Scriptures on the cross (arrow up) died and was buried (down arrow) rose again on the third day (up arrow) and is returning to judge the quick and the dead (down arrow).   Be a witness, trust in God today! This Arrow Ring makes a Great Gift.
Arrow Ring Details;
Item FJW5599
Sizes 5-9
Hypo Allergenic
Feather measures 1/4 wide x 1/2 inch
Shank measures 1/8 inch thickness
Engraved
Stainless Steel
---
More from this collection