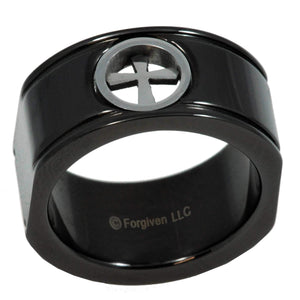 Forgiven Jewelry
Cross Blade Ring
Cross Blade Ring
Item RAB2 - Cross Blade Ring is a large big ring for Men. We constructed it from high quality hypo allergenic stainless steel with black anodized finish. The black portion of the band is made round and has flat sides. If you look closely at the image is shows the shape. The top and bottom portion of this ring is round but on the left and right of the ring you will notice the sides are flat. We did this because this band ring is big and husky. ( just the way men like it, LOL) We like how big and manly it looks and did not want to sacrifice fit and comfort. With this design change we carefully sliced off a portion of the sides. This way it fits well on your finger and not to crowded against the other fingers on your hand.
The inside of the black band is round like all rings. The cross was crafted out of blades. Some customers have said it kind of looks like a fan or propeller blade. This cross is mounted right in the band made entirely from stainless steel. What sets this off is the 3-D effect the tube that goes all the way through the ring. The wide stainless steel ring is coated with a black anodized finish that is fused to the ring for a permanent bond. We achieved this by using an electric current that seals it to the metal. We also added two engraved parallel lines that run along the outside edge of the band. 

Cross Blade Ring Details;
Item Code RAB2
American Design
Hypo Allergenic
Stainless steel
Black Anodized finish
Available sizes 13 &14
Ring measures 1/2" wide
1/8" thickness
Care and cleaning
Avoid wearing in the shower or pool. Do not shovel gravel or mix concrete with this bracelet. The glossy finish will scratch under these conditions. Jewelry in general, is not indestructible. It will break under stress. Jewelry is to be worn in casual environments. Like church, or a restaurant. You can where it out on the town or shopping. But use good judgement if wearing it to work. Depending on what you do, it could put it in danger of getting scratched or broken. Same principles with wearing it to school. Think about what you will be doing. Always keep you jewelry dry and store it in a safe place. Always use a soft cloth and mild soap to clean jewelry.
---
More from this collection