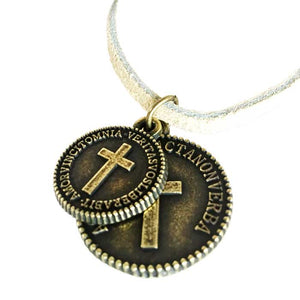 Forgiven Jewelry
Cross Coins Brass on Suede Necklace
Cross Coins Brass on Suede Necklace
item E56BSUD - Cross Coins Brass on Suede Necklace is proudly made in the USA. This necklace is special because it comes with two pendants.  The two Cross Coins are different is size and have embossed art on one side and engraved text on the other. The Vintage style cross coins are made from lead free pewter with a antique BRASS finish.
Cross Coins Brass on Suede Necklace Details:
Item code E56BSUD
Made in the USA

24 inch Tan Leather Suede
Large pendant measures 1" around and 2mm thickness
Small pendant measures 3/4" around and 2mm thick
The cross coins are designed with engraved cross symbols and Latin text and small bumps around the edge of the coins. double brass finish cross pendants with Latin text on front of both that read; "Love Conquers All" "The Truth Shall Set You Free" . On the back side of the big cross coin is has engraved text that reads; "From the Cross Comes Salvation"  The necklace is strung with a piece of 24 inch Tan Suede cord necklace. 
This necklace was designed to look very old and to have a classic vintage look that is not only fashionable but a true statement of the wearers faith
The mystic coin Cross
This coin crosses, represents that which joined all things unto itself by a word. The word or name of Jesus. He is the way the truth and the life. John 14:6 it reads; "Jesus saith unto him, I am the way, the truth, and the life: no man cometh unto the Father, but by me"
Makes a GREAT GIFT
Give the gift of faith by giving the Coin Cross Pendant Necklace. This pendant is designed to look like it came from sunken pirates treasure. These old fashion cross coins pendant features Latin text. Your friends and family can wear their faith with the knowledge of faith. Covered in an antique brass finish, it's sure to set there a presence away from social media. Pair this with the rustic genuine Suede leather with a beautiful coins it will make anyone come alive in Christ.
True American Design by Americans who put America first. We put Americans to work and bless 1000's of American families with unique Christian Jewelry with stunning design, quality, and family values. We are born and raised right here in the USA. We have been serving the American people since 1993.
---
More from this collection