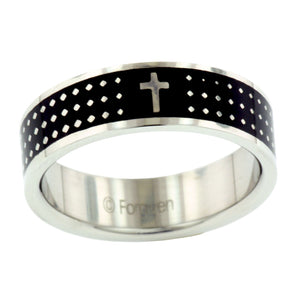 Forgiven Jewelry
Cross Dot Ring
Cross Dot Ring
Item RSCB - Cross Dot Ring is a hypo allergenic stainless steel ring with black epoxy that have three rows of repetitive silver dots that run parallel around the entire band.  In order to design a ring like this we had to create a deep engraved channel that features an embossed Cross with many raised dots. Great detail went into this design. We made it with 3 equal columns of about 49 embossed dots in each row. The dots wrap around the entire band. The embossed cross and dot pattern background that has been engraved is carefully filled with black epoxy that is then cured and polished to a very smooth finish.
True American Design by Americans who put America first. We put Americans to work and bless 1000's of American families with unique Christian Jewelry with stunning design, quality, and family values. We are born and raised right here in the USA. We have been serving the American people since 1993.
This ring is high quality because it is hypo allergenic. To further highlight the raised Cross & Dots we buffed the entire cross ring with a finishing polish that brings out incredible shine. We believe in the power of Jesus Christ. The wide cross is special to us as it says in 1 Corinthians 1:18 "For the word of the cross is foolishness to those who are dying, but to us who are saved it is the power of God".
Cross Dot Ring Details;
Item code RSCB
American Design
Comes in sizes 9-11
hypo allergenic
stainless steel
Ring measures 1/4" wide by 1/16" thick
Engraved Background
Embossed Art
Care and Cleaning
While Forgiven Jewelry products are designed to last, proper care is an important part of keeping your jewelry looking it's best. Because the ring has black epoxy color fill, it can be knocked out with a sledge hammer. When anything is epoxy filled it is like plastic paint that adheres to the stainless steel. The ring will last a life time if you avoid wearing it while working with cement. Or working in the yard. Or doing gardening. We do not recommend wearing this ring while shingling a roof or working with abrasive materials. Be sure not to wear your jewelry while cleaning or working with harsh chemicals, in pools or spas, or while playing sports. Store your jewelry individually to keep them from scratching each other. To clean your jewelry, use a warm, soapy water soak and a soft brush.   http://youtu.be/qstNjFLHaxw
---
More from this collection