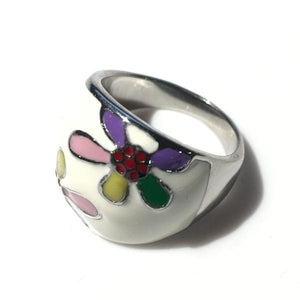 Forgiven Jewelry
Flower Fashion Ring
Flower Fashion Ring
item WhFlower -
Flower Fashion Ring 
is a hypo allergenic stainless steel floral design. This is a chunk of a ring that features two flower blooms but the ring is filled with epoxy color. In the center of the Flower floral blooms features many different color fills. This good quality hypo allergenic stainless steel ring will bloom forever because it is cast in a mold and is hand polished for superior fashion beauty. Two stainless steel blossom forms a grand daisy set forth in a signet ring with year-round beauty. Always innovative, Forgiven Jewelry goes floral for a classically beautiful ring that represents our saviors love for us.
What is a floral ring all about? Why did we make one for me...
Imagine this...Shining in the sunshine nestles a cross of Jesus amid stainless steel petals. We were inspired by Gods awesome flowers he designed for us to plant and enjoy. One of our favorite flowers in the spring and summer is the "
DAISY
". We designed this silver daisy flower ring as a shining daisy blossom to crown our savoir in the center of ring. The open petals around the cross adds a touch of elegance like a crown to our KING OF KINGS.
1 Timothy 6:15
says... "
which in its own times he will show, who is the blessed and only Ruler, the King of kings, and Lord of lords
".
A look at this wonderful biblical passage that speak of Jesus as King of kings and Lord of lords offers much insight regarding the meaning of these phrases. The phrase "King of kings" is used six times, including three times in relation to Jesus. Here Jesus is called King of kings along with other titles to show His unique and perfect role as God. He is noted clearly as divine and of greater power than any other ruler. So why not honor him with this ring that not only serves as a reminder to the ring bearer but as reflection of our faith to those who look upon its beauty. This flower ring makes a great gift to those who are true believers and want to honor him in a unique way. This Flower Ring comes in
sizes 7-10. The Flower Ring Blossom measures 20 mm wide and each of the eight petals measure 4.5mm x 7mm tall.
---
More from this collection