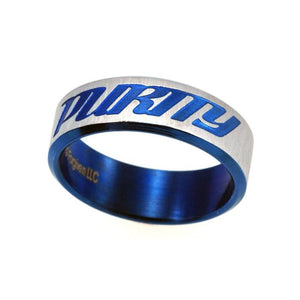 Forgiven Jewelry
Frosted Purity Ring
Frosted Purity Ring
Item RS7 -
Frosted Purity Ring
is a hypo allergenic stainless steel purity band ring. This ring features three key elements that makes this purity ring unique.
1) Blue Anodized finish that is permanently bonded to the stainless steel using electrical current.
2) The special frosted finish that scrapes a frosted finish across the surface of the ring
3) The deep engrave lettering that spell out the word PURITY.
Frosted Purity Ring Details;
Item RS7
American Design
Available in sizes 11, 12, 13
Hypo Allergenic
Stainless Steel
Frosted finish
Blue anodized lettering
Engraved text
Blue text "PURITY" is very cool and makes for one rocking ring!!!
The purity ring band is equipped with our special comfort fit styling. The comfort styling is the way the ring is cut on the inside diameter of the ring. We carefully cut the inside smooth and taper the width so the ring fits perfectly on your finger no matter what side you want to wear. The Purity Ring Band is made with high quality Stainless Steel with a brushed metal FROSTED finish to give all the text on this ring clarity.
True American Design by Americans who put America first. We put Americans to work and bless 1000's of American families with unique Christian Jewelry with stunning design, quality, and family values. We are born and raised right here in the USA. We have been serving the American people since 1993
This is not always the Rule for others who just want to be pure at all times
The American Heritage Dictionary gives us more on what PURITY means.
1. The quality or condition of being pure: the purity of the drug.
2. Freedom from spiritual or moral defilement; innocence or chastity: "Teach your children,the belief in purity of body, mind and soul" (Emmeline Pankhurst).
3. The degree to which a color is free from being mixed with other colors.
We like to wear our Purity Ring to be pure in my life and how I respond in public and on social media.
Care and Cleaning
While Forgiven Jewelry products are designed to last, proper care is an important part of keeping your jewelry looking it's best. Because the ring is anodized with a
blue finish
, it can be scratched off. When anything is anodized it is electrically charged and a color coating is permanently adhered to the metal that is charged. The Color of the ring is a coating that will last a life time if you avoid wearing it while working with cement. Or working in the yard. Or doing gardening. We do not recommend wearing this ring while shingling a roof or working with abrasive materials. Be sure not to wear your jewelry while cleaning or working with harsh chemicals, in pools or spas, or while playing sports. Store your jewelry individually to keep them from scratching each other. To clean your jewelry, use a warm, soapy water soak and a soft brush.
---
More from this collection