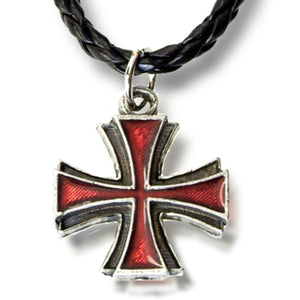 Forgiven Jewelry
Maltese Cross Bolo Choker
Maltese Cross Bolo Choker
item J6432 - Maltese Cross Bolo Choker is a pewter cross that is filled with red epoxy. The cross was designed with a two dimensional channel that could hold any color epoxy. We choose a transparent red color fill to represent the blood of Jesus. The backside of the pendant we engraved the scripture reference JOHN 3:16 that reads; For God so loved the world, that he gave his one and only Son, that whoever believes in him should not perish, but have eternal life. The pedant dangles for a black braided bolo style necklace. The term MALTESE is very old and it describes the style. Our style of Maltese cross has cross arms of equal length that broaden from the center and have their ends indented in a shallow V-shape. This is a very traditional shape.
Maltese Cross Bolo Choker Details:
Item J6432
Filled with red translucent epoxy
Pewter "Maltese Cross"
Back side engraved John 3:16
18 inch Black Bolo cord
Cross Pendant measures 3/4" x 3/4"
Bolo cord is 1/8" thickness
Back Story on All Forgiven Jewelry Cross Pendants
The Maltese Cross Necklace would be meaningless without the reboot... Jesus, Gods only son, was basically murdered for no reason in Jerusalem.
Calvary is the Latin form of the word. The Holy Bible does not reveal the precise location of Golgotha. It simply states that Jesus' crucifixion took place outside the city of Jerusalem, though near it (John 19:20; Hebrews 13:12). Why was Jesus Murdered if he is blameless and not guilty? Because he claimed he was God's only son... He took our place on the Cross because none of us are guiltless or blameless or perfect in any way. That is what is so cool about our Maltese Cross Necklace because it radiates with its red color that exemplifies the victory over death. It is a unique look to cherish and to adore, this cross pendant has an antique pewter finish and suspends freely along an 18 inch black bolo cord.
Cross Necklace makes a great gift - Made in the USA
This cross necklace is made of pewter. The channel of red epoxy is seamless to form a single cross within the cross itself. The cross is on an a piece of black braided bolo cord with lobster claw closure. The Maltese cross necklace will make for perfect Graduation, Confirmation, Walk to Emmaus, Easter, VBS, or Sunday school gift. No religious event is complete until you have the right cross necklace to really bring everything together. think about it, is really is a great gift at any VBS, the cross necklace looks great and will be a hit with everyone.
---
More from this collection