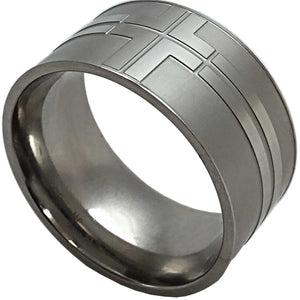 Forgiven Jewelry
Mens Wide Cross Band Ring
Mens Wide Cross Band Ring
Item Code RW3 - Mens Wide Cross Band Ring  wide band ring is a fine quality hypo allergenic stainless steel men's ring. It has a smooth embossed design. We created the embossed image by reverse engraving the sleek pattern.  This design is way cool for Men. Its wide its masculine because of the sleek lines and the reverse engraved process that leaves and embossed pattern of a cross and connecting lines.  One of our most brilliant unique Christian Jewelry rings ever made. The band is polished to create a high luster finish against the matte finish background. This style of polishing the front and dulling the background is stunning and makes the wide cross band look stunning and royal.
Mens Wide Cross Band Ring details;
Item Code RW3
Only Sizes 10, 12, 14
Men's Design
American Design
Hypo Allergenic
Available in sizes 9-15
Stainless Steel in high Polish and Brushed Metal finish
Measures 1/2" wide
Comfort fit styling
True American Design by Americans who put America first. We put Americans to work and bless 1000's of American families with unique Christian Jewelry with stunning design, quality, and family values. We are born and raised right here in the USA. We have been serving the American people since 1993.
To further highlight the raised Cross we buffed the entire wide cross ring with a finishing polish that brings out incredible. We believe in the power of Jesus Christ. The wide cross is special to us as it says in 1 Corinthians 1:18 "For the word of the cross is foolishness to those who are dying, but to us who are saved it is the power of God". Because of the message of the cross, we designed a series of "RW" cross rings. Their are five cross rings in the collection. Each cross ring in the collection is the same width and uses the same principles of removing the background to bring the design to the front. Another feature used in this collection is a unique cross. The use of each ring and the unique style of the cross is in some sort of pattern. This is a must have collection and for a limited time available while supplies last. They make a great gift. Because there is five unique designs in the collection you could wear one each day to work in a five day work week. As always Forgiven Jewelry pushes the envelope of fashion by posting these rings on instagram on fashion week and using the fashion week hash tag to promote the name of Jesus and salvation. If you need a great gift for a true believer, these rings all come in sizes 9-15. All come in Stainless Steel and have a high Polish and Brushed Metal finish. They all Measures 1/2" wide and have the Comfort fit styling finish. Please note that wider bands like this may require a larger size than your normal ring size.
---
More from this collection