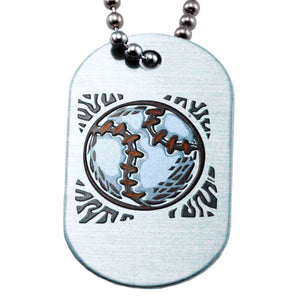 Forgiven Jewelry
Phil 4:13 Softball Necklace Dog Tag
Phil 4:13 Softball Necklace Dog Tag
item STSB2 - Phil 4:13 Softball Necklace Dog Tag that features a Softball print on an Aluminum Tag that is shaped like a dog tag. The back side features text that reads "I can do all things through Christ who strengthens us". This scripture from the Bible is our inspiration. I CAN DO is our motto. It is inspired from Philippians 4:13. The entire pendant is made from a thin sheet of aluminum. All the edges are smooth and everything is screen printed and baked on for an almost scratch proof coating. The benefit of using Aluminum over pewter or zinc for the dog tag was for the weight. Many players want to wear I CAN DO while they playing and wanted something that was almost weightless. This pendant is very easy to wear and it is so lightweight that is will not bog you down or hit you in the face like HEAVY DOG TAGS can.
True American Design by Americans who put America first. We put Americans to work and bless 1000's of American families with unique Christian Jewelry with stunning design, quality, and family values. We are born and raised right here in the USA. We have been serving the American people since 1993.
We designed this Softball pendant, for the player that loves extra innings. The Softball choker was made to fit and feel comfortable because it comes on 18" ball chain. To have all the power of scripture that they can do all things through Christ who strengthens them. All the I Can Do elements strike out the competition as reminders that we can play with in the game to the best of our God given ability and to play with honor and respect. *do not wear this jewelry in the pool, shower or bath
Great Gift Idea
Softball Jewelry is Perfect for Girls or Guys young and old. Great for Softball camps, leagues or church vbs or any other Christian athletic event.
Phil 4:13 Softball Necklace Dog Tag Details
Item code : STSB2
Colorful Softball Dog Tag pendant
Philippians 4:13 "I can do all things through Christ who strengthens me"
Comes on 18" ball chain
Pendant measures 1.5" x 7/8"
Light Weight Aluminum Tag
Smaller and less heavy that traditional dog tags
History of Softball is from a football game and boxing!
All people assume that softball was derived from baseball right? Wrong, the sport's first game actually came about because of a football game. The history of softball dates back to Thanksgiving Day of 1887. The fans of the winning team playfully threw a boxing glove at a fan of the loosing team. The fan swung at the balled-up glove with a stick, and the rest of the group looked on with amazement. One of the onlookers a reporter named George Hancock, jokingly called out, "Play ball!" and the first softball game commenced with the football fans using the boxing glove as a ball and a broom handle in place of a bat. How cool is that!  
---
More from this collection