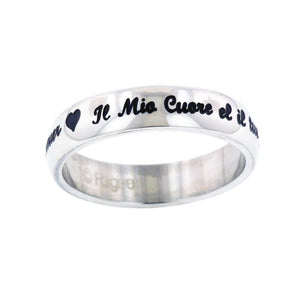 Forgiven Jewelry
Posey Ring
Posey Ring
item RPR5 - Posey Ring is a hypo allergenic stainless steel ring.  This ring is laser engraved with text and heart symbols that are all filled with black epoxy for contrast.  This ring falls into the category called Posey Rings. This Posey Ring is extra special with Italian to English translation of the phrase "My Heart is Yours Forever" "Il Mio Cuore el il tuo per Sempre" with the engraved Hearts and text with black epoxy. Remember the black color may face over time but the deep engraved image will never fade, and will last a lifetime.
Posey Ring Details:
Sizes 6-9
RPR5
American Design
Posey Ring
My Heart Is Yours
High Polished Stainless Steel
Hypo Allergenic
 True American Design by Americans who put America first. We put Americans to work and bless 1000's of American families with unique Christian Jewelry with stunning design, quality, and family values. We are born and raised right here in the USA. We have been serving the American people since 1993.
What is the historic value of Posey Rings
Poesy rings date as early as classical times, when they were considered purpose and meaning. They have the power when worn to enforce the poesy engraved on them. In the 16th and 17th century England and France, a wedding ring would be inscribed with a sentiment of love, faith and hope. A silver betrothal ring would often be replaced with the same poesy ring on there wedding day. The poesy rings reached their greatest popularity during the Renaissance when they were not only given as wedding rings, but used as a lover's token or simply as a means of showing fond regard or giving a gift. This Ring makes a great gift that will last a lifetime.
What is a Poesy Ring?
1.
Poetical works; poetry.
2.
The art or practice of composing poems.
This poesy ring means "I will love you forever no matter what" Some customers have told me it reinforces the poem in a special way for that special someone. This ring was inspired by love.
- I love you forever
- I love your smile
- I love the way you make me feel
- I love when you hug me
- I love when you kiss me on the cheek
- I love the way you hold my hand
- I love the way you lift me up when I am down
If you agree to any of these things you will love this poesy ring
copyright (C) Christian Jewelry designed by Forgiven Jewelry
---
More from this collection