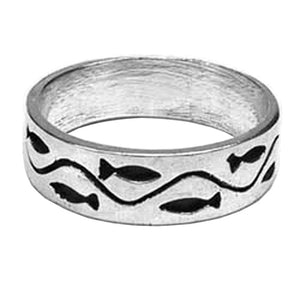 Forgiven Jewelry
Sterling Silver Swimming Fish Band Ring
Sale price
$18.99
Regular price
$24.99
Sterling Silver Swimming Fish Band Ring
Item code RFW - Sterling Silver Swimming Fish Band Ring is solid .925 sterling silver. This ring features a band with many Fish sybmols that are swimming . The entire ring all the way around is made from swimming symbols that swim in both directions around the band. The Swimming Fish Ring is made with high quality hypo allergenic sterling silver with a polished finish to give all the symbols on this ring clarity. This Fish Ring was designed not only be a symbol of our Lord and Savior Jesus Christ, but to be a symbol of our believe in that he is Gods only son.
Sterling Silver Swimming Fish Ring Details
Comes in size 5, 6 and 7 ONLY
Limited stock on hand
Ring measures 1/4 inch wide
Jesus Fish is an old symbol call 
ICHTHUS
An early Christian symbol ichthys symbol, created by combining the Greek letters

ΙΧΘΥΣ

, Ephesus.

ΙΧΘΥΣ

 

(Ichthus) is an backronym/acrostic for

 "Ἰησοῦς Χριστός, Θεοῦ Υἱός, Σωτήρ"

, (I?sous Christos, Theou Yios, S?t?r), which translates into English as "Jesus

 

Christ, Son of God, Saviour.
Jesus Birth
Luke 2:1-20
World English Bible (WEB)
Now in those days, a decree went out from Caesar Augustus that all the world should be enrolled. This was the first enrollment made when Quirinius was governor of Syria. All went to enroll themselves, everyone to his own city. Joseph also went up from Galilee, out of the city of Nazareth, into Judea, to David's city, which is called Bethlehem, because he was of the house and family of David; to enroll himself with Mary, who was pledged to be married to him as wife, being pregnant.
While they were there, the day had come for her to give birth.

 
She gave birth to her firstborn son. She wrapped him in bands of cloth, and laid him in a feeding trough, because there was no room for them in the inn.

 
There were shepherds in the same country staying in the field, and keeping watch by night over their flock.

 
Behold, an angel of the Lord stood by them, and the glory of the Lord shone around them, and they were terrified.

 
The angel said to them, "Don't be afraid, for behold, I bring you good news of great joy which will be to all the people.

 
For there is born to you today, in David's city, a Savior, who is Christ the Lord.

 
This is the sign to you: you will find a baby wrapped in strips of cloth, lying in a feeding trough."

 
Suddenly, there was with the angel a multitude of the heavenly army praising God, and saying,
"Glory to God in the highest, on earth peace, good will toward men."
When the angels went away from them into the sky, the shepherds said to one another, "Let's go to Bethlehem, now, and see this thing that has happened, which the Lord has made known to us."

 
They came with haste, and found both Mary and Joseph, and the baby was lying in the feeding trough.

 
When they saw it, they publicized widely the saying which was spoken to them about this child.

 
All who heard it wondered at the things which were spoken to them by the shepherds.

 
But Mary kept all these sayings, pondering them in her heart.

 
The shepherds returned, glorifying and praising God for all the things that they had heard and seen, just as it was told them.
Father, forgive them, for they do not know what they do
 Jesus was looking down from the cross just after he was crucified between two criminals. He sees the soldiers who had mocked, scourged, and tortured him, and who have just nailed him to the cross. He probably remembers those who have sentenced him - Caiaphas and the high priests of the Sanhedrin. Pilate realized it was out of envy that they handed him over (Matthew 27:18, Mark 15:10). But is Jesus not also thinking of his Apostles and companions who have deserted him, to Peter who has denied him three times, to the fickle crowd, who only days before praised him on his entrance to Jerusalem, and then days later chose him over Barabbas to be crucified?
.
We like to wear our Jesus Fish Ring in public and show it on social media.
---
More from this collection