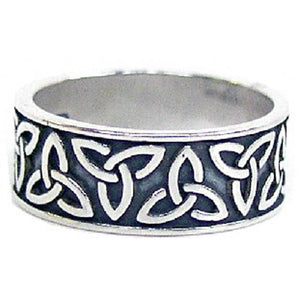 Forgiven Jewelry
Sterling Silver Trinity Band Ring
Sale price
$18.99
Regular price
$24.99
Sterling Silver Trinity Band Ring
Item code RTTC - Sterling Silver Trinity Ring
Sterling Silver Trinity Band Ring is solid .925 sterling silver. This ring features a band with many trintiy sybmols. The entire ring all the way around is made from trinity symbols that connect to form the band. The trinity Ring is made with high quality hypo allergenic sterling silver with a polished finish to give all the symbols on this ring clarity. This Trinity Ring was designed not only be a symbol of our faith, but to be a symbol of your believe in the father, son and holy spirit. Sterling Silver Trinity Ring Details
Comes in size 6 ONLY
Limited stock on hand
Ring measures 1/4 inch wide
Father - Son - Holy Spirit are described as a
TRINITY
Symbol.
What is a Trinity Symbol
This Trinity Knot Ring features many trinity knots. The three equal arcs of the circle denote equality. The equality between the three persons of the God Head (Father-Son-Spirit). The lines run continuously and therefore express their eternal existence. They are interwoven, which expresses their unity. The center forms an equilateral triangle. The Triangle itself a symbol of the Trinity. Each pair of arcs combines to form a "VESICA," as an aureole, indicative of glory. So here we have it, a complex expression of equality, eternity, unity, and glory. This is what essentially is a simple form, which stands for the Holy Trinity. Trinity: 1) God the father 2) Jesus 3)Holy Spirit. The symbol which is also known as the "triquetra
" (Try ket ra Latin for three cornered) and is one of the most beautiful and most satisfying of the symbols for the
Holy Trinity
. The trinity symbol rings makes a great gift because it comes in sizes 6-10. **note; It is difficult to date the exact origin of the Celtic triquetra, and whether it was first used in a Christian or pagan context; the distinctive interlace/knot work artistic style did not fully develop until ca. the 7th century A.D. So Pagans try to disclaim this symbol, but it was adapted to be a witness for all Christians to show the trinity of God, Jesus and the Holy spirit. This symbol is present everywhere in Christianity.
---
More from this collection