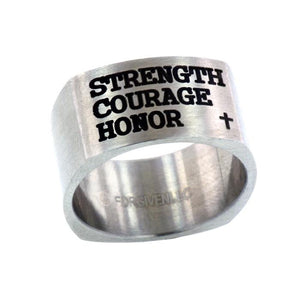 Forgiven Jewelry
Strength Courage Honor Ring
Strength Courage Honor Ring
Item code RSB2 - Strength Courage Honor Ring is men's square band ring that has the phrase laser etched Strength Courage Honor .  We also designed this ring to have a  brushed metal finish with a small symbolic cross etched into lower right side of the ring. This ring is unique because it is a four sided square ring. Most rings are round but this ring has a square like quality. This band has four equal sides with a round corner edges that are not sharp but smooth. The cool thing about it is it is almost completely round on the inside of the ring and is a comfortable fit.
Strength Courage Honor Ring Details:
Item code RSB2
American Desing
Hypo Allergenic
Stainless stell
Comes in sizes 9-12
Center thickness 1/16"
Corner thickness 1/8"
Brushed metal finish
Laser etched design

Buy American Design 

Support American workers with this Ring

Strength Courage Honor Wide Band Ring Measures 1/2 inch wide

The ETCHED design that accents the beauty of the text that appear dark with a small cross design accent

The Ring Is inspired from the Bible and its Reference to Joshua 1:9 - Men Of Honor, Men Of Strength, Men of Courage
True American Design by Americans who put America first. We put Americans to work and bless 1000's of American families with unique Christian Jewelry with stunning design, quality, and family values. We are born and raised right here in the USA. We have been serving the American people since 1993.
The words Strength, Courage, Honor and the cross are only printed on the one side of the ring. The band of the ring is quite wide and broad. We designed this ring for men. We intended to give it a vintage finish. To achieve vintage style cues we used a brushed matte finish on the surface of the ring. This technique gives the laser etched lettering a dark grey finish. **the words are not ENGRAVED - Or an optical illusion...Please note the photo shows the text on the ring as etched, which means that when the text image is lightly etched with a laser on to the surface of the metal**
Men Of Honor, Men Of Strength, Men of Courage, What does God Say
Joshua 1:9
This is my command. Be strong and courageous! Do not be afraid or discouraged. For the Lord your God is with you wherever you go."
2 Samuel 22:31
God's way is perfect. All the Lord's promises prove true. He is a shield for all who look to him for protection.
1 Chronicles 28:20
Then David continued, "Be strong and courageous, and do the work. Don't be afraid or discouraged, for the Lord God, my God, is with you. He will not fail you or forsake you. He will see to it that all the work related to the Temple of the Lord is finished correctly.
Job 17:9
The righteous keep moving forward, and those with clean hands become stronger and stronger..
---
More from this collection