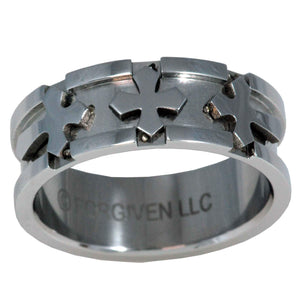 Forgiven Jewelry
Three Cross Ring
Three Cross Ring
Item RAB5 - Three Cross Ring is a Men's channel ring. This Cross Ring is a stunning 3-D triple cross ring that features 3 raised crosses on the front side of the band. The high polished Cross Ring is made from stainless steel. The 3 Cross Ring is made with an engraved center section with 3 cross symbols that are less than a 1 mm thick. The center cross is square shaped with two horizontal crosses on each side of the main center cross. This Cross Ring was designed to be a reminder of the love Jesus had for us on that sad day at Calvary. Jesus willingly got on the cross so we wouldn't have too, the three crosses are symbolic of the other to criminals that were on their own crosses right next to Jesus. This hypo allergenic ring is hand polished this ring to be highly reflective and elegant. The main features of this ring exemplify its beautiful three cross design and intricate details in styling.
Three Cross Ring Details
Item code RAB5
American Design
Mens cross ring
Hypo Allergenic
available size 12
ring width: 1/4"
Center cross measures 1/4" x 1/4"
Outside crosses measure 1/4" x 3/8"
Why a Cross Ring?
Because it makes a statement... with the three crosses that welded to the band of the Stainless Steel Band that is tough. Its really possesses a unique and solid faith that is sure to get noticed. This cross ring can make a wonderful gift for the special person in your life. It makes a great gift for VBS, Graduations, Confirmations, Easter, Fathers Day, Walk to Emmaus marches. All rings come with a 100% Money Back Guarantee. Our Stainless Steel Cross ring is hypoallergenic.
Care and Cleaning
While Forgiven Jewelry products are designed to last, proper care is an important part of keeping your jewelry looking it's best. Be sure not to wear your jewelry while cleaning or working with harsh chemicals, in pools or spas, or while playing sports. Store your jewelry individually to keep them from scratching each other. To clean your jewelry, use a warm, soapy water soak and a soft brush.
---
More from this collection