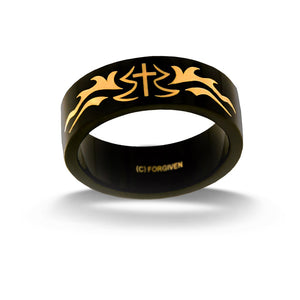 Forgiven Jewelry
Tribal Black Cross Band Ring
Tribal Black Cross Band Ring
Available in sizes 9-11 - Tribal Black Cross Band Ring is made of high quality stainless steel and has laser etched cross and tribal motif on the front of the band. The Tribal Black Cross Band Ring has a special black Anodized Finish. This finish is a coating (not paint) that is permanently bonded with the stainless steel that will not rub off unless it is scratched off. For example: if you are a construction worker and you wear it to work... you have a good chance to scratch off the entire black coating in a matter of days. This Tribal Black Cross band ring should be treated with respect, and worn for special occasions like dinner & a movie, or church or concerts, ect. The Black Cross Band Ring is a special ring stainless steel ring with special etched silver cross that is right in the center of the design that exposes the original color of the silver stainless steel ring.  The black finish is high polished ring to a mirror finish.
Tribal Black Cross Band Ring Details
RSBC
American Design
Hypo allergenic Stainless Steel
Black Anodized Color
Sizes Available: 7, 8, 10, 13
This finish will scratch if you rub it on bricks
Strong Convictions
The Cross is powerful Strong convictions require a strong man and a strong voice. Preach the gospel without saying a word when you wear this striking symbol of faith. Believe it or not but there are places in the world where faith in Christ will get you persecuted, even to the point of death. These Christian Believers know what it means to carry their cross and follow Jesus in a life or death way. For those of us in America where we still have rights, who are not being persecuted in such fashion, our job is still to remain faithful to Christ. Our Black Cross ring symbolizes our Christian spirituality and healing. Many people that wear black Cross rings often use it as a reminder of; balance, faith, unity, temperance, hope, and life or as an ultimate act of love when Jesus Died on the cross and salvation is there for the sinner. Jesus said "Take up your cross and follow Me" (Matthew 16:24; Mark 8:34; Luke 9:23) : Many people who don't know Jesus or study the Bible think somehow the "cross" as some burden they must carry in their lives. When Jesus carried His cross up Golgotha to be crucified, no one was thinking of the cross as symbolic of a burden to carry. To a person in the first-century, the cross meant one thing and one thing only: punishment for crimes. Now currently... 2000 years later, we at Forgiven Jewelry view the cross as a cherished symbol of atonement, forgiveness, grace, and love. Therefore, "Take up your cross and follow Me" means being willing to die in order to follow Jesus. This is called "dying to self." It's a call to absolute surrender. After each time Jesus commanded cross bearing, He said, "For whoever wants to save his life will lose it, but whoever loses his life for me will save it. What good is it for a man to gain the whole world, and yet lose or forfeit his very self?" (Luke 9:24-25). Although the call is tough, the reward is matchless.  
---
More from this collection