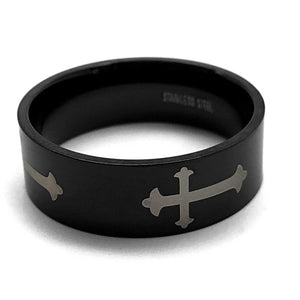 Forgiven Jewelry
Black IP Cross Ring
Black IP Cross Ring
Item FJW5143 - Black IP Cross Ring is over 1/4 inch wide ring that is designed for Royalty. The black band is smooth and silky. The black color is anodized over the hypo allergenic stainless steel. The electric current bonds the black color to the ring that cannot be rubbed off but can be scratched off with sharp objects. The main feature is the crosses that are large and go all the way around the ring. The cross symbols are laser etched to remove the black coating and reveal the metal finish of the stainless steel. This gives this ring a stylized fashion finish that is not only amazing to wear but is eye catching. The detail is impeccable.
Black IP Cross Ring Details
Item code FJW5143
Hypo allergenic
Men's Cross Ring
Measures a little over a 1/4 inch wide
Crosses measure 1/4 x 1/2 inch
Why a Cross
We believe in the power of Jesus Christ. The cross is special to us as it says in 1 Corinthians 1:18 "For the word of the cross is foolishness to those who are dying, but to us who are saved it is the power of God". Because of the message of the cross, we designed it for men to rise up and be a man of God. They make a great gift.
Care and Cleaning
While Forgiven Jewelry products are designed to last, proper care is an important part of keeping your jewelry looking it's best. Because the ring is anodized with a black finish, it can be scratched off. When anything is anodized it is electrically charged and a color coating is permanently adhered to the metal. The Black Color of the ring is a coating that will last a life time if you avoid wearing it while working with cement. Or working in the yard. Do not wear this ring while gardening. We do not recommend wearing this ring while shingling a roof or working with abrasive materials. Be sure not to wear your jewelry while cleaning or working with harsh chemicals, in pools or spas, or while playing sports. Store your jewelry individually to keep them from scratching each other. To clean your jewelry, use a warm, soapy water soak and a soft brush.
  As always Forgiven Jewelry pushes the envelope of fashion by posting these rings on instagram on fashion week and using the fashion week hash tag to promote the name of Jesus and salvation.
---
More from this collection