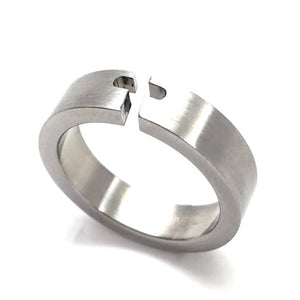 Forgiven Jewelry
Carved Cross Ring
Carved Cross Ring
Item code RSOPEN - Carved Cross Ring is a simple open Cross with nice open carved cutter style cross. This is very clean design. We used many simple design cues from this old cross symbol. We have always liked the single solo cross concept for this ring. To capture as much of the design as possible we cut this ring to be open. The features that define it's beauty are captured using this method of cutting. This hypo allergenic ring is hand polished with a brushed finish. The main features of the ring exemplify its beautiful slender cross and precise cut styling.
Carved Cross Ring details:
Item code RSOPEN
American Design
Hypo Allergenic
Available in size 6 only

Cross measures 1/4" wide
Forged from stainless steel
Why the Cross?
All Forgiven Jewelry Cross rings are designed to be spiritually inspired. Our rings should invoke hope, faith and love. This exquisite yet elegant style of a calatrava cross will be cherished for ages to come. The symbolic elements of this Open Cross Ring represents God's true love. It represents your faith in Jesus Christ to the world. It is our core belief that Christ is Alive in Glory. That is why the beauty and style of the Open Cross Ring will witness for you outside of instagram, twitter and facebook.
Care and Cleaning
While Forgiven Jewelry products are designed to last, proper care is an important part of keeping your jewelry looking it's best. Be sure not to wear your jewelry while cleaning or working with harsh chemicals, in pools or spas, or while playing sports. Store your jewelry individually to keep them from scratching each other. To clean your jewelry, use a warm, soapy water soak and a soft brush.
---
More from this collection