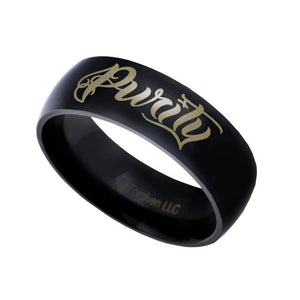 Forgiven Jewelry
Cursive Purity Ring
Cursive Purity Ring
Item code RSPUB -
Cursive Purity Ring
is made from high quality stainless steel that is polished silky smooth. Before the Laser text is etched onto the surface of the ring. The entire band is anodized with a black finish. Because the Cursive Purity Ring was shined to a high luster, it gives off a polished mirror Black finish. The black Cursive Purity ring has an etched lettering style that has a very in vogue. The word purity on this ring is very large and easy to read and could be used in a promise ring event or True Love Waits ceremony. This black purity band ring was designed to symbolizes a persons commitment to God and to themselves to stay pure until they get married. It's cool to make a commitment like this and to have a fashionable ring to show for it, is a brilliant idea. This Black Purity Band Ring is so awesome that is can be worn by both boy's or girl.
Cursive Purity Ring Details
American Design
Item code RSPUB
Comes in sizes 11-12
Ring measures just over a 1/4" by 1/16" thick
What kind of impression do you seek?
One waiting for there one true love before marriage or one who want to be pure in all that they do.
ONE:
The Greek word
hagnot?s: (purity, chastity)
carries with it the idea of cleanliness or purity, in the sense that we would commonly understand it. It means to be genuine, free from things that would adulterate something and make it impure; as in the purity of gold. It is similar to the concept of holiness.
TWO:
It could also be for the people who want to be PURE BEFORE GOD... When we think of purity of heart, perhaps we think of someone whose motives are pure, who possess no guile or malice. Someone who is good natured.
---
More from this collection