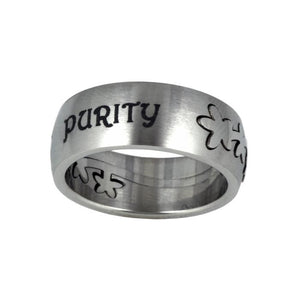 Forgiven Jewelry
Floating Purity Ring
Floating Purity Ring
Item RST8 - Floating Purity Ring has a smooth reflective floral piece located in the center of the band. This band ring is amazing because the word Purity is etched front and center. The overall shape of the band ring is slightly rounded. We also implemented a brushed metal finish to offset the floating device. The entire ring is made from hypo allergenic stainless steel. What really pop out at you is the contrasting matte finish against the high polished floral puzzle piece. This main feature of this Purity ring is the glossy floral puzzle piece pattern flows from one side of the ring to the other.
True American Design by Americans who put America first. We put Americans to work and bless 1000's of American families with unique Christian Jewelry with stunning design, quality, and family values. We are born and raised right here in the USA. We have been serving the American people since 1993.
People always comment on how the floral pattern looks as though the pattern is "floating". The floral puzzle piece element can be removed. A word of caution for those who have never had a ring like this. This floral puzzle piece will never pop out while you wear it. But, when you take it off it has the potential to fall out if the ring. Always handle this ring by squeezing the two pieces together, or put it in a small zip lock bag. The floating floral puzzle piece is the main design element that wraps around the ring. The floral design piece in this ring is an added functional and can be worn with out the floral element. The ring was designed to be worn either way, but the puzzle piece floral element is made with high quality precision. It is laser cut and polished to a high gloss mirror like finish that is would seem that once the floral element is taken out it is impossible to get it back in. Trust me, if it comes out it can go back in, that is why it is called a puzzle ring. This ring can be worn as a Promise / Purity Ring.
Floating Purity Ring Details;
Item RST8
American Design
Hypo allergenic
Stainless steel construction
Dual finish Design
Laser etched lettering
Two piece puzzle ring

Ring Sizes 6-8

Ring Measures 8mm wide

Can be worn without puzzle piece
http://youtu.be/rvIVI6uhD3M
---
More from this collection