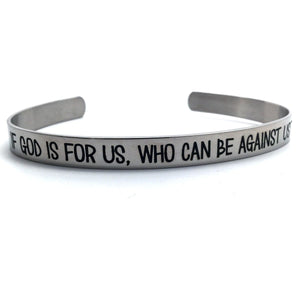 Forgiven Jewelry
If God is for us Bracelet
If God is for us Bracelet
Item code : AAC5 If God is for us Bracelet is a metal cuff bracelet. Made from the finest quality stainless steel. Perfectly shaped "oval" to fit your wrist. The curved bracelet measured around 1/4" of an inch wide. This Bracelet Can be adjusted to wear comfortably because it is about 1/16" thickness. Romans 8:31 scripture is laser etched on the front side of the If God is for us Bracelet.
True American Design by Americans who put America first. We put Americans to work and bless 1000's of American families with unique Christian Jewelry with stunning design, quality, and family values. We are born and raised right here in the USA. We have been serving the American people since 1993.
This style of bracelet we used a bold easy style of text that reads all they way around the cuff bracelet "If God is for us who can be against us". The opening features a "arrow" motif on each end. There are no sharp edges. The whole bracelet is made smooth. The Bracelet is polished to a highly glossy finish. This unisex bracelet can be worn by just about anyone and looks fantastic! Just the sheer beauty of high polished steel is a real eye grabber.
If God Is For Us Bracelet measures:
1/4" wide
6-1/2" long
1/16" thickness
1-1/4" opening
2-3/4" oval
It is a stylish reminder that "If God is for us who can be against us"" (
Romans 8:31
) Romans 8:31 God is for us, says Paul. Having given his own Son for "all of us". This scripture means what it says... Nothing is able to come between us and the love of God in Jesus. Neither death, or life, or angels, or rulers, or things present, or things to come, or powers, or height, or depth, or anything else in all creation, will be able to split us from the love of God in Jesus. WOW read that again! Keep your favorite scripture close your heart. We incorporated scripture and design as an inspiration to you and who ever looks upon this beautiful cuff bracelet.
God is for us Bracelet,
would be the perfect gift for Birthdays, Valentines, Easter, Mothers Day, Fathers Day and Christmas.
---
More from this collection