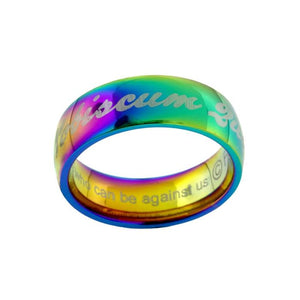 Forgiven Jewelry
Latin God With Us Ring
Latin God With Us Ring
Item code RSC3 - Latin God With Us Ring is a hypo allergenic stainless steel ring.  People call it the Rainbow color ring. It really does have an unbelievable the color combinations that are random on this style of finish, The main design element that is most obvious is the multi-colored anodized process. This stainless steel ring has a laser etched phrase in Latin that reads: "Deus Nobiscum Quis Contra" meaning "God is with us, who can be against us".
Latin God With Us Ring Details
Item code RSC3
American Design
Hypo Allergenic
Stainless Steel 
Comes in sizes 7-10
Ring measures just over a 1/4" wide and 1/8" thick
Multi-colored anodized gloss finish
Latin phrase: "Deus Nobiscum Quis Contra"
 True American Design by Americans who put America first. We put Americans to work and bless 1000's of American families with unique Christian Jewelry with stunning design, quality, and family values. We are born and raised right here in the USA. We have been serving the American people since 1993.
This God Is With Us ring has a slight dome curve and is polished to a high luster. The finish technique we use is a unique anodize coating that is very hard to replicate the same exact way on every ring. The rainbow colors are brilliant because each and every ring that we manufacture with this coating is unmatched. This ring was designed and inspired from scripture in Romans 8:31 take from the New International Version (NIV) We are More Than Conquerors. It says; What, then, shall we say in response to these things? If God is for us, who can be against us? **NOTE: the color rainbow effect is never the same twice. Each ring has a slightly different color pattern. We guarantee you will love the burst of color variations, they are incredible!
This Ring demands Care and Cleaning
While Forgiven Jewelry products are designed to last, proper care is an important part of keeping your jewelry looking it's best. Because the ring is anodized with a rainbow finish, it can be scratched off. When anything is anodized it is electrically charged and a color coating is permanently adhered to the metal that is charged. The Color of the ring is a coating that will last a life time if you avoid wearing it while working with cement. Or working in the yard. Or doing gardening. We do not recommend wearing this ring while shingling a roof or working with abrasive materials. Be sure not to wear your jewelry while cleaning or working with harsh chemicals, in pools or spas, or while playing sports. Store your jewelry individually to keep them from scratching each other. To clean your jewelry, use a warm, soapy water soak and a towel.  
---
More from this collection