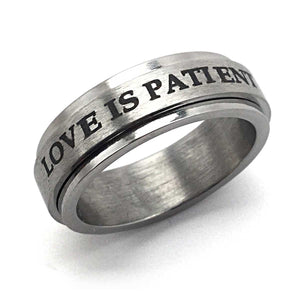 Forgiven Jewelry
Love Is Patient Ring
Sale price
$7.00
Regular price
$14.99
Love Is Patient Ring
item RDSL - Love Is Patient Ring is a hypo allergenic stainless steel ring.  This spinner ring features a spinning device with an etched phrase "Love Is Patient" in English Translation. It also features Love is Patient in Spanish that Reads "El amor es paciente". Love Is Patient spinner ring has a brushed metal finish with the black etched text. One side is in English and one side in Spanish.
Love Is Patient Details
Item RDSL
American Design
Ring measures 1/4" wide

Hypo Allergenic
Stainless Stee
Brushed Metal Finish
Laser Etched
The text is printed all the way around the outer spinner band. This band is fully functional because the outside band spins freely on an inner band, which is quite clever. This ring is a very attractive. If you have ever purchased a spinner ring in the past, you will notice that is a Classic Spinner Style. This Love Is Patient Ring makes a great gift that everyone will cherish forever.
 True American Design by Americans who put America first. We put Americans to work and bless 1000's of American families with unique Christian Jewelry with stunning design, quality, and family values. We are born and raised right here in the USA. We have been serving the American people since 1993.
It is a stylish reminder
Love is Patient - (
1 Corinthians 13:4-7
)
Love is patient and is kind; love doesn't envy. Love doesn't brag, is not proud,
doesn't behave itself inappropriately, doesn't seek its own way, is not provoked, takes no account of evil;
doesn't rejoice in unrighteousness, but rejoices with the truth;
bears all things, believes all things, hopes all things, endures all things.
What does it mean?
After making the point that love is a necessary ingredient in all things. The apostle Paul begins to describe love. "Patient" is at the top of the list. Its a "long" patience or "endurance," according to some other translations. Godly love and a patient spirit go hand in hand. An insistence on our own selfishness, as opposed to godly love. Patient endurance and long-suffering are hallmarks of a loving character. Love melts away the impatience and frustration that so often hamper one's dealings with others. When the object of one's love fails or disappoints in some way, what is the proper response? According to 1 Corinthians 13:4, the
loving
response is patience.
---
More from this collection