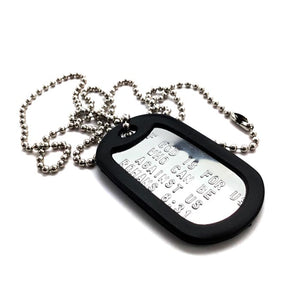 Forgiven Jewelry
If God Is For Us Dog Tag Necklace With Silencer
If God Is For Us Dog Tag Necklace With Silencer
Item DCR831S - If God Is For Us Dog Tag Necklace With Silencer is a True Dog Tag necklace is shown with a black rubber silencer. It features stamped lettering. The dog tag is stamped with Bible scripture from Romans 8:31. It reads; "What then shall we say about these things? If God is for us, who can be against us? ."
If God Is For Us Dog Tag Necklace With Silencer Details
Item DCR931S
American Design
Comes with black silencer
Hypo Allergenic
Romans 8:31 design
Military Style
Stainless Steel Rolled edge Dog Tag
Stamped Scripture
Standard Size Dog Tag
30" aluminum ball chain
Measures: 2" x 1 1/8"
Just from that scripture you can see our inspiration. This is made from military grade stainless steel. We stamp these letters from behind leaving a permanent impression of Romans 8:31. This dog tag is the exact military size. Plus this tag is less heavy, because it comes on 30 inch aluminum ball chain. This chain will not rust and has hypo allergenic qualities.
True American Design by Americans who put America first. We put Americans to work and bless 1000's of American families with unique Christian Jewelry with stunning design, quality, and family values. We are born and raised right here in the USA. We have been serving the American people since 1993.
What does Romans 8:31 mean to me? At Forgiven Jewelry this passage is incredibly spiritually inspired. This necklaces should invoke faith. Paul's statement is fact. It holds amazing implications for us as believers... understanding the dynamics of how God feels about you will change your life.This exquisite yet rugged dog tag will be cherished for ages to come. The symbolic scripture serves as a reminder to us and onlookers at our Gods unlimited power.. It is our core belief that Christ is Alive in Glory. That is why dog tag pendant will witness for you outside of instagram, twitter and facebook. Care and Cleaning While Forgiven Jewelry products are designed to last, proper care is an important part of keeping your jewelry looking it's best. Be sure not to wear your jewelry while cleaning or working with harsh chemicals, in pools or spas, or while playing sports. Store your jewelry individually to keep them from scratching each other. To clean your jewelry, use a warm, soapy water soak and a soft brush.
---
More from this collection