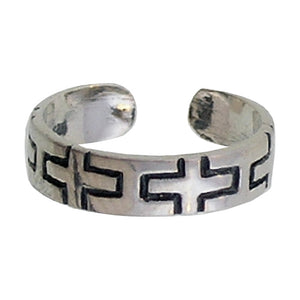 Forgiven Jewelry
Sideways Cross Band Toe Ring
Sale price
$14.99
Regular price
$23.99
Sideways Cross Band Toe Ring
item RT33 - Sideways Cross Band Toe Ring has 4 sideways crosses.  Cross Band Toe Ring is a hypo allergenic ring. The ring is polished to a high luster. The ring is made from high quality .925 sterling silver. This ring is engraved with 4 small Cross symbols that go all the way around the band. The deep engraved symbols are filled with black oxidation. The black color may fade over time but the engraved crosses will always remain because ALL the symbols are engraved not etched into the band of the ring. Why a Cross Ring? Because it makes a statement... with the many crosses that are engraved in the band. It really possesses a unique and subtle BOLDNESS of faith that is sure to get noticed. This cross ring can make a wonderful gift for the special person in your life. It makes a great gift for VBS, Graduations, Confirmations, Easter, Fathers Day, Walk to Emmaus marches. All rings come with a 100% Money Back Guarantee. Our Sterling silver Cross ring is hypoallergenic.
Posse of Crosses trending?
maybe, it is possible.... Amazingly... any time there is innovation related to anything about Christ in the WORLD, we @ Forgiven Jewelry perk up. It has been described as "wildly popular", "the hottest trend," "totally cute", and the "in fashion." A ring stuffed with as many crosses as possible is worth the props for the sake of Jesus Christ our Lord and Savior... Let Focus on Jesus being cool and trendy with the world. By the way Jesus is always COOL at Forgiven Jewelry, Since 1992 when Jesus was invited into our hearts from a television program. "Therefore let us be grateful for receiving a kingdom that cannot be shaken, and thus let us offer to God acceptable worship, with reverence and awe," (Hebrews 12:28) "And from the throne came a voice saying, "Praise our God, all you his servants, you who fear him, small and great." (Revelation 19:5).   
Sideways Cross Band Toe Ring Details;
Hypo Allergenic
Sterling Silver .925
One Size fits all
Product ID RT 33
Ring measures 3/16 inch wide
Polished finish
4 Engraved Crosses
---
More from this collection