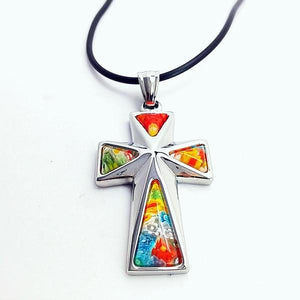 Forgiven Jewelry
Spectrum Millifiori Triangle Cross Choker
Spectrum Millifiori Triangle Cross Choker
Item SMillTC -
Spectrum Millifiori Triangle Cross Choker
that features the "Millifiori Glass". This cross hand made with inlaid glass that makes it unique one of a kind items. Its a unique cross necklace that you can cherish or a lifetime and the colors of
God's rainbow
(
Genesis 9:13
). This cross pendant is engraved with a deep triangle channels on each end of the cross pendant. Once all the metal is removed we hand cut and inlay this one of a kind glass. The cross pendant alone is made from high quality hypo allergenic stainless steel.
What is Millefiori Glass?
Millefiori
is Italian for a glasswork technique which produces distinctive glass patterns. The term millefiori is a combination of the Italian words "mille" which means thousand. The word "fiori" which means flowers. A guy named Apsley Pellatt was the first to use the term "millefiori" back in 1849. While the use of this technique long precedes the term "millefiori". Today most frequently associated with Venetian glassware. This cross is made with the finest quality hypo allergenic stainless steel. This cross serves as a reminder that Jesus set us free from sin and bondage. It truly captures the the beautiful colors from the rainbow.
Spectrum Millifiori Triangle Cross Choker Details;
Item code SMillTC
Beautiful Millifiori glass
18" choker
Cross measures 3/4" x 1" (20mm x 25mm)
Hypo allergenic
Stainless steel cross body
Hand Cut
One of a kind
God Created the Rainbow it is his copyright, hands off!
In
Genesis 9:13
God said; "I set my rainbow in the cloud, and it will be for a sign of a covenant between me and the earth". We feel the rainbow is being miss used and should not be confused with rebellion. This misrepresentation is a sin against nature itself. Christians should stand up and claim the rainbow for what it is and what it means. Don't let it be perverted to claim it as something it is not.
Inspiration of the cross
We found in
2 Corinthians 5:17
that reads;
"Therefore, if anyone is in Christ, the new creation. It goes on to say: The old has gone, the new is here!" This cross is a perfect reminder of how special and unique we are in Christ.
---
More from this collection