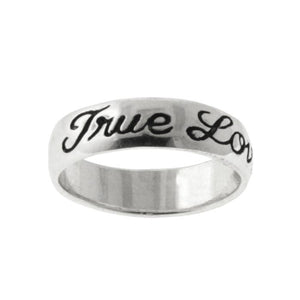 Forgiven Jewelry
True Love Waits 925 Ring
True Love Waits 925 Ring
item RTLW7 -  
True Love Waits 925 Ring
that features the phrase that reads; "True Love Waits" . The Ring is engraved with Lovely Cursive Text, that wraps around the Ring. The ring has a high polish and is made from .925 Sterling Silver that is a classic "Unisex" style ring. The name on this ring says it all: You have decided that you will wait for your one true love. You are a special gift worth giving, and worth waiting for.
Psalm 119:9
that reads;
"How can a young person stay on the path of purity? By living according to your word."
True Love Waits Sterling 925 Ring Details;
Item code RTLW7
Comes in sizes 11 only
.925 Sterling Silver
Ring measures 3/16" (5mm) wide
**Officially Licensed**
New stainless steel version is identical to this sterling silver ring Item code RTLWC type this item code into the forgiven jewelry search bar to find it
Officially licensed from True Love Waits
This Cursive Style True Love Waits Ring is a great purity ring to wear as a reminder of your commitment to God to abstain. It a pledge of purity for your one true love that you cared enough to wait. You are a special gift worth waiting for! Wear this ring with pride and honor and bravery
Pledge History
The True Love Waits pledge states: "Believing that true love waits, I make a commitment to God, myself, my family, my friends, my future mate and my future children to be sexually abstinent from this day until the day I enter a biblical marriage relationship." In addition, they promote sexual purity, which encompasses not only abstaining from intercourse before marriage, but also abstaining from sexual thoughts, sexual touching, pornography, and actions that are known to lead to sexual arousal. By the late 1990s, Christian music groups were promoting the program, and events similar to youth rallies were held at Christian music festivals providing an opportunity for teens to sign TLW pledge cards.
---
More from this collection