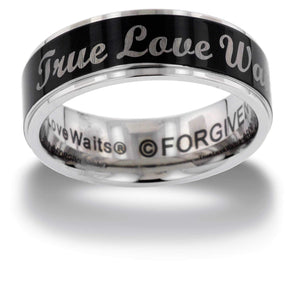 Forgiven Jewelry
True Love Waits Black Filled Ring
True Love Waits Black Filled Ring
Item RTLWB - True Love Waits Black Filled Ring is a polished hypo allergenic stainless steel ring. This is a unique band ring because the entire ring is engraved. All the text is raised and filled with black epoxy. The black epoxy is level with the embossed words that read "True Love Waits" in cursive lettering style. We applied a series of sanding and polishing to make the black as shiny as the silver finish text. This band ring has a rounded comfort fit style on the inside of the ring. As an added feature we etched the words true love waits inside the ring. This ring can be used or worn as a purity / promise ring. Forgiven Jewelry is an "Officially Licensed" manufacturer and re-seller of the copy written phrase 'True Love Waits".
True American Design by Americans who put America first. We put Americans to work and bless 1000's of American families with unique Christian Jewelry with stunning design, quality, and family values. We are born and raised right here in the USA. We have been serving the American people since 1993.
We are Officially Licensed to sell TLW jewelry
Officially licensed from True Love Waits
This True Love Waits Ring is a great purity ring to wear as a reminder of your commitment to God to abstain. It a pledge of purity for your one true love that you cared enough to wait. You are a special gift worth waiting for! Wear this ring with pride and honor and bravery.
Beware of cheap imported bootlegged true love waits jewelry.
True Love Waits Black Filled Ring Details;
Item Code RTLWB
American Design
Hypo Allergenic
Ring Size  7,8,11 only
Stainless Steel
Ring measures 8mm wide
Black band measures 6mm
Ring is 3.1mm thick
Pledge History
The True Love Waits pledge states: "Believing that true love waits, I make a commitment to God, myself, my family, my friends, my future mate and my future children to be sexually abstinent from this day until the day I enter a biblical marriage relationship." In addition, they promote sexual purity, which encompasses not only abstaining from intercourse before marriage, but also abstaining from sexual thoughts, sexual touching, pornography, and actions that are known to lead to sexual arousal. By the late 1990s, Christian music groups were promoting the program, and events similar to youth rallies were held at Christian music festivals providing an opportunity for teens to sign TLW pledge cards.  
The TRUE LOVE WAITS Christian Ring is one of Forgiven Jewelry's Officially Licensed Jewelry item.
---
More from this collection