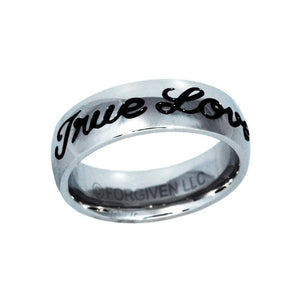 Forgiven Jewelry
True Love Waits Cursive Ring
True Love Waits Cursive Ring
Item RTLWC - True Love Waits Cursive Ring is an Officially licensed True Love Waits ring. This ring is made form the finest quality stainless steel. Our rings are all hypo allergenic. This ring is laser engraved with hand written cursive text that reads true love waits. To get great contrast from the polished finish we put black epoxy color in the phrase. This ring is a great unisex ring. The name on this ring says it all: You have decided that you will wait for your one true love. You are a special gift worth giving, and worth waiting for. Psalm 119:9 that reads; "How can a young person stay on the path of purity? By living according to your word."
True American Design by Americans who put America first. We put Americans to work and bless 1000's of American families with unique Christian Jewelry with stunning design, quality, and family values. We are born and raised right here in the USA. We have been serving the American people since 1993.
Officially licensed from True Love Waits
This Cursive Style True Love Waits Ring is a great purity ring to wear as a reminder of your commitment to God to abstain. It a pledge of purity for your one true love that you cared enough to wait. You are a special gift worth waiting for! Wear this ring with pride and honor and bravery
Pledge History
The True Love Waits pledge states: "Believing that true love waits, I make a commitment to God, myself, my family, my friends, my future mate and my future children to be sexually abstinent from this day until the day I enter a biblical marriage relationship." In addition, they promote sexual purity, which encompasses not only abstaining from intercourse before marriage, but also abstaining from sexual thoughts, sexual touching, pornography, and actions that are known to lead to sexual arousal. By the late 1990s, Christian music groups were promoting the program, and events similar to youth rallies were held at Christian music festivals providing an opportunity for teens to sign TLW pledge cards.
True Love Waits Cursive Ring Details
Item code : RTLWC
American Design
Hypo Allergenic
TRUE LOVE WAITS Cursive text
Unisex ring stainless steel high polish
Officially Licensed from True Love Waits
Measures 1/4 inch wide
Laser engraved text with black fill
Sizes 6-9
Comfort fit design
The comfort fit and feel is a nice feature for a ring because it only measures 1/4 inch wide. This ring will last a lifetime because it is laser engraved. The text will never fade away even if the black color fades or pops out.
Care and cleaning
Avoid wearing in the shower or pool. Do not shovel gravel or mix concrete with this bracelet. The glossy finish will scratch under these conditions. Jewelry in general, is not indestructible. It will break under stress. Jewelry is to be worn in casual environments. Like church, or a restaurant. You can where it out on the town or shopping. But use good judgement if wearing it to work. Depending on what you do, it could put it in danger of getting scratched or dislodging the black epoxy. Same principles with wearing it to school. Think about what you will be doing. Always keep you jewelry dry and store it in a safe place. Always use a soft cloth and mild soap to clean jewelry.
---
More from this collection