• Coronavirus • COVID-19 • wuhan virus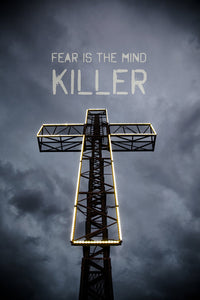 I'm reading Dune and came across the quote below. "Fear is the mind-killer." It's appropriate for the times we live in right now with the Coronavirus (COVID-19) traveling at breakneck speed across planet earth.  Fear is everywhere.
"I must not fear. Fear is the mind-killer. Fear is the little-death that brings total obliteration. I will face my fear. I will permit it to pass over me and through me. And when it has gone past I will turn the inner eye to see its path. Where the fear has gone there will be nothing. Only I will remain." (Paul Altreides quoting the Bene Gesserit "Litany Against Fear" from Dune: by Frank Herbert) 
Though I do not have an inner eye, I do have the Holy Spirit living inside me.  I have God's word to read and memorize.  Right now my "Litany Against Fear" is Psalm 91.